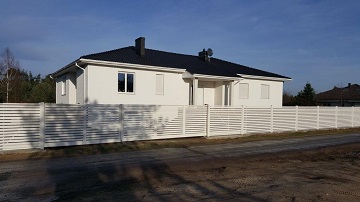 Modern front fencing should be special. We offer certified products with unique designs.
Design
High quality and aesthetical appearance of the product is a result of using innovative solutions: the stable structure is made using a modern computer moulding technology.
Corrosion protection and colours
The use of corrosion protection layers and varnish ensures the comfort of unmanned operation, while the product is manufactured while respecting the environment. The basic colours available in the standard option are, according to the RAL 7024 palette - anthracite, RAL 8017 - bronze, RAL 6005 - green, RAL 9005 - black, RAL 7030 – light grey. In addition, for an extra fee, the fence can be painted any colour from the RAL palette.
Fencing functions
Front fences are designed and manufactured especially for homes, private property as well as businesses which want to stand out. They should provide security and at the same time improve the appearance of the whole property through their aesthetic design. They are available in a wide range of colours and sizes. Our fences have a simple modern design and create an elegant feature complementing the household. The modern design matches the current architectural trends.
ADVANTAGES OF FRONT FENCING
Architectural design of gates and doors matches the design of the fence
Modern design
Wide range of colours
Wide range of sizes
No operating costs
High level of corrosion protection
Robust and solid structure based on closed-ended steel profiles
Very durable paint coats with many years of service
Manufactured using modern technologies
Automation and intercom
Professional efficient fitting