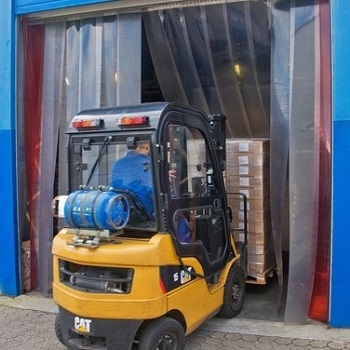 Strip curtains are made of a soft PVC material. They are used as additional fixed or sliding partitions. Strip curtains are fitted inside buildings directly behind a "hard" door or at some distance from the door to create an additional vestibule. They limit heat loss and minimize draft, at the same time ensuring full visibility of the other side of the partition. PVC strip curtains can be used in cold rooms and freezers to help seal the entrance to a cold room or to partition of a freezer room. They can also be used as insulating curtains in refrigerated vehicles. Depending on the type of the film, curtains can be used in different environmental conditions, in a wide range of temperatures from -50°C to +50°C.
Benefits of using strip curtains:
Limited heat loss, increased temperature, reduced noise,
Prevent contamination and stop insects,
Prevent drafts,
Limit odour transfer,
Protection against UV radiation in case of welding works (special version of the curtain).
Hook mount
Allows us to increase or decrease strap overlay
It is the most popular mounting bracket for strip curtains. It consists of hooks and plates fitted on the hooks. The bracket acts as a mount rail. It features mounting holes which means it can be fitted above the lintel and on the wall. Fitting components are made of stainless steel (inox), which means that curtains can be used in rooms with high levels of humidity. Such curtains are mostly used in cold rooms and freezer rooms in the food and meat industry.
Pipe mount
The degree of overlay is fixed and cannot be modified
The ZWR pipe mount is an alternative to the hook mount. It can be used in sliding curtains. Fitting components are made of galvanized steel. Used PVC strips can be replaced without replacing the mounts. The pipe mounting system is recommended for entry doors for transporting high loads.