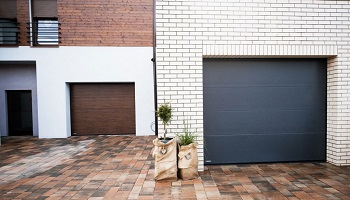 Garage doors: modular, tilt, side-hung, roll-up
Available in a thermally insulated version or ready to be filled with a layer of insulation,
A wide range of colours, wood-effect veneers and accessories to integrate the product seamlessly with other components of your home,
If you use your garage for more than keeping your car, use a convenient solution – an additional entry door within or next to the garage door,
Ability to control all devices: roller-blinds, canopies, doors and alarm at your property means that you, your home and family will be safe 24 h, all year round.
Modular doors: an investment with guaranteed gains
Door insulated with 40 mm polyurethane foam to keep warm air inside your garage and help you save electricity,
A wide range of designs: from colourful panels to modern V- profiles, enables you to create a unique style suited to your home surroundings,
Make your product special with accessories: decorative panels and windows to create a one-of-a-kind door.
Tilt and hide-hung doors: economical and reliable
Reliability, ease of use and a simple design will let you enjoy your door for a long time,
If you need to, you can insulate your gate at any time,
Ease of use is also guaranteed by an electric motor which works with other devices in your home.
Roll-up door: aesthetics and flexible fitting
A special solution for small garages: you can save space in the garage and the driveway, while ensuring safety of your loved ones and your car.
Standard automated door prevents unexpected failures thanks to photoelectric sensors and curtain lock,
A convenient solution operated externally using a switch or remotely with a remote control,
Ability to operate the door manually using a crank,
Save electricity with the glazed option.
Electric controls:
Electric control is a convenient solution which allows you to control all your devices (roller blinds, garage doors and entrance gates, canopies, lighting and alarm) using a single remote or a satellite control system,
You can program your devices remotely using modern technological tools: opening and closing on a timer.