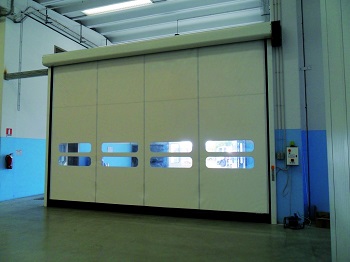 HIGH-SPEED ROLL-UP DOORS
Recommended for areas with high levels of traffic of people and goods,
Door integrity is ensured thanks to brush seals (draft excluders), which prevent water, dust and other pollutants coming through,
You can adjust the speed, stopping and acceleration times (optional system),
Available with a transparent curtain.
HIGH-SPEED ROLL-UP DOORS WITH SELF-REPAIRING ONE-PIECE CURTAINS
Safe: a special mechanism changes the path of the door when it encounters or approaches an obstruction (thanks to a photoelectric sensor system),
Reliable: if the door gets damaged or falls off the guides, the problem can be fixed simply and easily,
Heavy duty,
Electric motor (standard) with wiring (optional),
Resistant to strong airflow and wind up to 120 km/h (thanks to side locks),
Practical and strong design with an aesthetic appearance.
HIGH-SPEED FOLDABLE GATES
Protected by a counterweight system and a speed, stop and start adjustment mechanism,
Featuring a fast semi-automatic emergency opening mechanism.