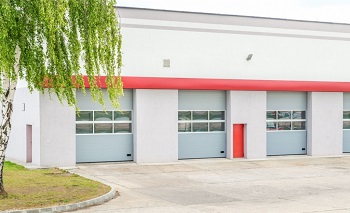 Modular industrial doors
Available with a 40 mm-thick insulated panel,
We can also manufacture doors with increased moisture resistance,
Air ventilation: vents or a special panel filled with perforated metal sheet,
A reliable security system for gates operated manually with a chain mechanism or electrically with a remote control or a switchboard.
Roll-up industrial doors: external and internal
Suitable for difficult fitting conditions at the site or if other equipment such as overhead cranes and lifts is already installed at the location,
Made of steel or aluminium,
Automated as standard to improve operations and ease of use,
Security; locks and edge protection, photoelectric sensors and emergency opening with a crank in case of an electricity blackout,
Great solution for locations where space-saving is a priority,
Integrity and air ventilation,
Glazed profiles facilitate the use of additional lighting in the door.
Automation options for industrial doors: a wide range of products from leading manufacturers
Products available for all types of industrial and commercial doors to meet the needs of every customer,
A particularly convenient solution to control all your devices electrically with one remote control.