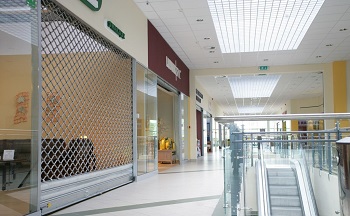 Steel roll-up grating doors are a reliable and durable solution for rooms which need to be secure and exposed at the same time. Steel grates are often used in showrooms and shopping centres, as they guarantee convenience and reliable protection.
The external structure of grate doors is made of steel piping with sinusoidal profiles joint with pins. Grates accompany two types of the drive system: spring and electrical side motors.
USE AND BENEFITS:
Roll-up grate doors are suitable for rooms whose interiors should be well protected and at the same time fully exposed or ventilated. The universal design of the grates means that they are often used in showrooms, shopping centres and underground storeys. A big advantage of roll-up grates is their structure which takes up minimal space. After closing the door, the grate is rolled on a rail above the entrance. They take up very little space and remain unnoticeable.
DRIVE SYSTEM
WITH SIDE MOTOR
These grating doors are equipped with an electrical side (basal) motor with an integrated emergency brake and an emergency opening mechanism, which uses a crank. The device is operated with a convenient control station with up – stop – down buttons.
WITH A SPRING SYSTEM
R2 SSG roll-up grates are equipped with conveyor spring systems which balance out their weight. They are operated manually with the use of a convenient, ergonomic handle. In case of grates higher than 2 m we also use a special additional hook to help lower the curtain. At the client's request we can also fit an electric motor.
COMPANY SECURITY
R2 grates are equipped with an anti-burglary bolt lock, fitted in the bottom part of the profile, which protects unauthorised opening of the door from the outside. R2 grating can be manufactured to meet the requirements of WK2 burglary protection class (EN 1627: 2011).
PRODUCT SAFETY
Roll-up grates with an electrical motor are fitted with a protection mechanism which stops the grate if any undesired object get inside it. This solution is perfect for commercial facilities and warehouses. It protects people, as well as equipment and goods.
USER SAFETY/R2 SSP
R2 SSG grates are fitted with a safety mechanism as standard which prevents uncontrolled grate dropping in case of a spring failure. Whereas the R2 SSP model with a side motor has an integrated emergency brake which also prevents rapid grate dropping.